FM's trip shows commitment to Africa's growth
Share - WeChat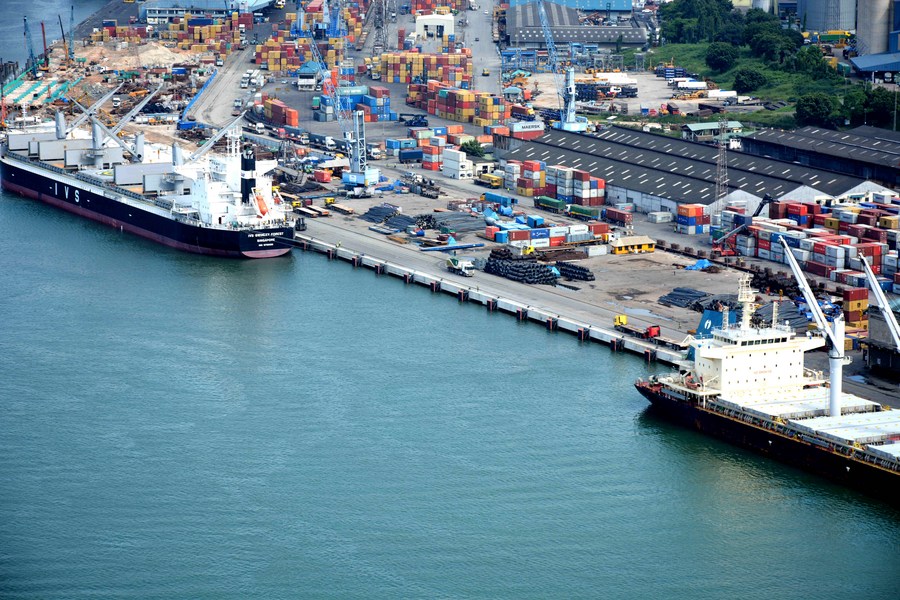 Two sides continue to join hands to ensure community with a shared future, observers say
Nearly eight years ago, President Xi Jinping made a state visit to Tanzania as part of his first trip abroad after assuming office.
In a speech he gave in the country, Xi for the first time noted that China and Africa have always been "a community with a shared future", given their decades long traditional friendship and supporting one another for common development.
Tanzania witnessed the revelation of China's Africa policy ideas in the new era, as Xi proposed the principle of "sincerity, real results, amity and good faith" that guides China's ties with the continent, State Councilor and Foreign Minister Wang Yi told Tanzanian President John Magufuli on Friday.
Wang finished visits to Nigeria, the Democratic Republic of Congo, Botswana, Tanzania and Seychelles in the past week and returned to China on Sunday.
Officials and experts said the trip served as fresh testimony of China's and Africa's success in joining hands to weather storms and seek common growth as a community with a shared future. In addition, Beijing has renewed its commitment to "pursuing the greater good and shared interests", a key principle proposed by Xi to handle China's Africa policy, they said.
The past year has seen China and Africa advancing high-level contacts and a cooperative agenda to jointly combat the novel coronavirus and push for economic recovery.
Among the highlights was the Extraordinary China-Africa Summit on Solidarity Against COVID-19, held by Xi and African leaders in June, where Xi proposed in his speech to further build a "China-Africa community of health for all".
Botswana President Mokgweetsi Masisi told Wang on Thursday that he appreciates China's great help to his government and people in achieving development and fighting the pandemic.
This year, the Forum on China-Africa Cooperation, founded 20 years ago to promote cooperation between China and African countries, is entering its third decade, and a FOCAC minister-level meeting will be held in Senegal this year.
"Discussions on priority areas such as jointly addressing challenges, facilitating economic recovery and innovation will be high on the China-Africa agenda," said Liu Guijin, former Chinese ambassador to South Africa and the Chinese government's first special representative on African affairs.
When addressing the China-Africa summit via video link in June last year, President Xi highlighted the necessity of helping Africa to achieve sustainable development.
"China supports Africa in its effort to develop the African Continental Free Trade Area and to enhance connectivity and strengthen industrial and supply chains. China will explore broader cooperation with Africa in such new business forms as digital economy, smart city, clean energy and 5G," Xi said.
Liu said China and Africa have shown to the outside world "what a genuine friendship and mutual support mean", as both sides exchanged medical assistance amid the pandemic and Xi attended the summit on fighting the virus with African leaders via video link.
As a follow-up, Wang said during his trip in the past week that continued efforts are needed to help African countries achieve economic self-reliance, and China is ready to work with these countries within the framework of FOCAC to make the meeting this year a success, deepen cooperation and upgrade China-Africa cooperation.
In Tanzania on Friday, Wang outlined a seven-point proposal for upgrading China-Africa cooperation, a vision that encompasses the areas of health, production capacity, regional interconnectivity, agriculture, the digital sector, the environment and military security.
The goal is to jointly defeat the pandemic, enable Africa's economic self-reliance, promote China-Africa free trade and trade infrastructure, bolster food security, help countries embrace the information revolution, better tackle climate change and build capacity for peacekeeping and fighting terror, according to Wang.
As China and Africa enter the new year, both sides are developing a diplomatic legacy of traditional friendship and using fresh opportunities to offset the pandemic's impacts, experts and officials said.
In December, China and the African Union signed a cooperation blueprint for jointly advancing the construction of the Belt and Road Initiative, and both sides are working to bolster synergies between the initiative and the AU's Agenda 2063 development vision.
In addition, Africa stands in the global market as an entire continent now with the official launch of the African Continental Free Trade Area on Jan 1.
Tanzanian newspaper the Daily News said Wang's trip, despite the pandemic, marks "a continuation of the fine tradition, which speaks volumes about the great importance China has always attached to China-Africa relations".
It has been a tradition that Chinese foreign ministers have chosen Africa as the destination for their first trip of a new year since 1991.
On every stop of his trip, Wang relayed Xi's greeting to the president's counterparts, and they expressed their great hope for their countries' ties with China.
During the trip, the Democratic Republic of Congo and Botswana signed cooperative documents with China on co-building the Belt and Road.
China cherishes old friends and attaches importance to making new friends, Wang said in a meeting with Democratic Republic of Congo President Felix Tshisekedi, adding that China never interferes in the internal affairs of other countries.
Liu Hongwu, dean of the Institute of African Studies of Zhejiang Normal University, noted that many African countries are faced with such challenges as inadequate infrastructure, debt crisis, hunger and poverty. But as an advocate of a China-Africa community with a shared future, China has taken the initiative to reduce the debt of some African countries within the framework of the G20, Liu added.